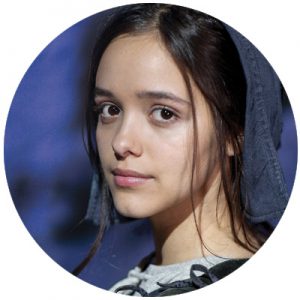 Bernadette SOUBIROUS
Eyma
Eyma is 16 years old and has been singing ever since she can remember.
Her musical style: Pop Rock. Adèle, Rihanna, Bruno Mars and Sam Smith are her biggest influences.
From the age of 10, she performed at a host of community events as well as open stages.
In 2005, she won the final of the "Plus 2 Talents" musical showcase in the junior category.
She has already appeared on a few stages in Paris, including Le Caveau des Artistes, Le Connétable and Le Sentier des Halles.
Selected to take part in The Voice Kids 2, Patrick Fiori turned his chair around during her performance and took her all the way to the battle stages.
In 2016, she represented France at a festival in the Sydney Opera House, appearing at the Casino de Paris that same year. She appeared on The Voice Tour at the Théâtre Antique d'Orange in 2017.
In Bernadette de Lourdes, Eyma plays the regular teenager who goes through a unique and life-changing experience.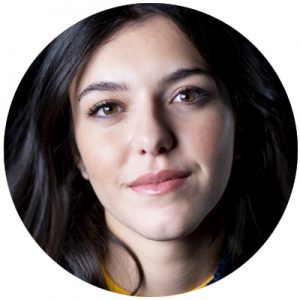 Bernadette SOUBIROUS, 2nd casting
and walk-on-actor/backing vocalist
Laure GIORDANO
Laure, currently eighteen years old, has been singing for a few years. She did an internship at the Music International Academy after taking part in various singing competitions that she often won (such as Vocal Tour and Passion Chant). She made a noteworthy appearance on the TV show "The Voice" (season 8) in Mika's team and was then discovered to play the title role in rotation with Eyma in "Bernadette de Lourdes" musical.
She took up the challenge to sing and act for the first time on a huge stage.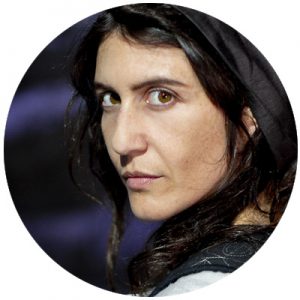 Louise SOUBIROUS
Sarah CAILLIBOT
Singer-songwriter and composer, Sarah appeared in a young talent show held in 2004 by the Association Orphée Théâtre in Morbihan (Brittany), winning First Prize with her own songs.

Also a lover of theatre, in September of the same year, she successfully auditioned for theConservatoire d'Art Dramatique and went on to start at its school in Paris' 15th arrondissement.
In April 2009, Sarah was awarded the Centre of Writing and Song prize by Voix du Sud, an organisation created and chaired by Francis Cabrel.

In February 2013, she appeared in The Voice, where she joined Garou's team. She also opened for The Voice Tour 2015.
Since 2016, Sarah has been working on her album, and was selected to appear on the "Destination Eurovision" programme on France 2 with her song "Tu me manques".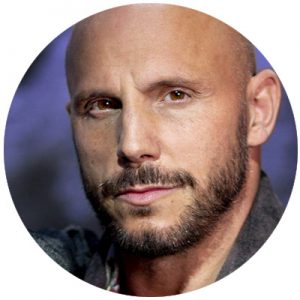 François SOUBIROUS
David BÁN
Singer-songwriter, comedian, musician and voice-over artist.
A French artist with Hungarian roots, David's Slavic influences come through in his music, combining a love of parties and poetry. At a young age, he wrote and self-produced his first albums, performing on stage after stage to a growing base of fans, before getting his break in hugely successful musical productions, including "Grease", "Hair", "1789, Les Amants de la Bastille" and "Les 3 Mousquetaires".
He has appeared on some of the biggest stages in France (Olympia, Bataclan, Grand Rex, Palais des Sports, etc.), as well as in Switzerland, Belgium and Russia.
On television and in film: "Scènes de ménages", "Capitaine Marleau", "Épouse-moi mon pote".
In 2017, David self-released his album "L'alpagueur", which he followed up with a sold-out tour.
He recorded his latest album "Encore plus fort" co-produced with "Les Frenchguys".
Today, he takes the role of Bernadette's emotional father, a marked contrast to the roles he has played previously.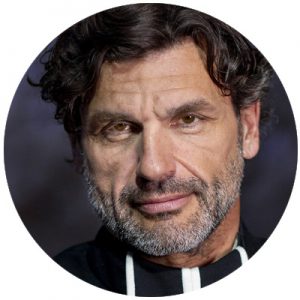 Father PEYRAMALE
Christophe HÉRAUT
Christophe was immersed in an artistic environment from a young age. A singer and musician, he plays multiple instruments, including the saxophone and the guitar. At 17, the young man toured all over France with his band, getting a taste for life on stage. Singing solo as a stand-in act, in a Béziers piano bar on Christmas Eve 1999, he was noticed by Dominique Besnehard, who introduced him to the producer Orlando, with whom he went on to record a number of singles. However, in 2004, his career took a major turn when director Eli Chouraqui offered him the supporting role in "Spartacus", a musical comedy by Maxime Le Forestier. From 2006 to 2010, Christophe landed the role of Ben-Hur in Robert Hossein's epic show. The troupe performed at the Stade de France, and on a number of dates in Australia. In 2013, he released his first album, "La chute est belle". When writing the lyrics for the album, he worked with François Welgryn, a writer for major artists such as Garou, Céline Dion and Johnny Hallyday. In the new show-event "Les 3 Mousquetaires", Christophe brings his charisma, emotion and powerful voice to the role of the Machiavellian Cardinal Richelieu.
In Bernadette de Lourdes, he plays the charismatic Father Peyramale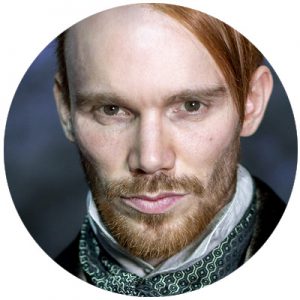 Commissioner JACOMET
Grégory DECK
Northern artist, Grégory joined the musical "Dracula, l'amour plus fort que la mort" in 2010, where he played Sorci, a vampire in high heels, directed by Kamel Ouali at the Palais des Sports in Paris. From 2012, he appeared in "Salut Les Copains!", directed by Stéphane Jarny at the Folies Bergère and on tour for 2 years.
In 2015, he appeared alongside Eugénie Soulard in "Cendrillon, Le Temps d'Aimer". The following year, he joined the cast of "Peppa Pig, le Grand Splash", for performances at the Casino de Paris and on tour.
In 2017, Gregory played Jean in the musical show by Pascal Obispo and Christophe Barratier, "Jésus, de Nazareth à Jérusalem" at the Palais des Sports.
In 2018, he was Perchik in "Un Violon sur le Toit" (Fiddler on the Roof), directed by Ned Grujicat the Théâtre du 13ème Art in Paris.
As a solo artist, he has broadened his acting range at Studio Pygmalion, trained in dubbing and released an urban music album #ÇaSuffitPas with Nicolas Lassus.
Grégory plays Commissioner Jacomet, who sceptically attempts to sort fact from fiction with Bernadette.
Jeanne ABADIE
Inès JEANNET
Born in Paris, Inès quickly moved with her family to the South-West of France.
She sang and danced from an early age.
At 6 years old, she started learning music theory and playing accordion in her village music school, and in 2011 she put the "Anticyclone" band together with her father and three of her brothers with a pop-rock, jazz and French pop music repertoire.
In 6th grade, she joined Marciac Middle school where she chose saxophone and singing classes.
Soon she became a soloist and made musical improvisations one after the other.
In 2016, she won a singing competition and left for three weeks for the US at the Blue Lake Fine Arts Camp.
During Marciac festivals and Master Classes she met the biggest jazz artists:
Melody Gardot, Jamie Cullum, Stacey Kent, etc.
In 2014 she played saxophone on stage with Ibrahim Maalouf.
She pursued her studies at Marie Curie High School in Tarbes where she joined a special Music section.
At the same time, she joined the music academy where she learned music theory, jazz, as well as classical singing to work on her technique.
Her musical tastes are eclectic:
Michel Legrand, Camille, and Jacques Brel. She's also widely influenced by Soul, Funk, R&B, and jazz music like Alicia Keys or H.E.R.
Toinette SOUBIROUS
Morgane GOMES FREITAS
Morgane, 16 years old, has been singing from an early age.
In 2015 she started attending singing classes and gave her first concert in Fontvieille.
She was only 12 years old at the time and took part in small concerts and singing competitions in which she won many prizes.
She then started to expand her skills by taking piano and guitar classes and by joining improvisational stage classes with the objective of writing and composing her own texts.
It was at that very moment that she recorded cover versions albums and new music that she herself fully produced.
The media started to be interested in her, and she was selected to participate in the TV show, "The Voice Kids" (Season 4) where she joined Matt Pokora's team who took her to the Battles phase.
Monsignor Bertrand-Sévère LAURENCE and Doctor DOZOUS
(Father PEYRAMALE understudy)
Daniel DEFILIPI
Born in Lyon, he was attracted early on by the entertainment industry.
At 5 years old he started a complete musical curriculum (piano, trumpet).
First a puppeteer, then full actor, he also wrote many sketches, parodies, and songs.
As a French music proponent, he just released a new album "On arrive un matin" with Marianne Mélodie record company.
He sung in the most famous cabarets in Paris (Don Camilo, Villa d'Este) and toured extensively (performing Jacques Brel and Charles Aznavour repertoire).
He was often invited to the Pascal Sevran TV show "La chance aux chansons".
As an actor, he played in various TV films and plays.
As a songwriter, he wrote for Enrico Macias, The Chorus, Rachid Bahri as well as sketches and parodies with Guy Lux for the TV show "La Classe".
He's the author of nine theater plays.
He received Michel Galabru's patronage for his play "La consultation" (The appointment).

He has been appointed permanent member of the association of authors, composers, and music publishers (SACEM).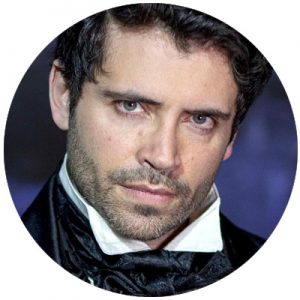 Prosecutor DUTOUR
(François SOUBIROUS and Commissioner JACOMET understudy)
Cédric PELZMAN
Cédric started learning piano and music theory at the music academy around the age of five.
Passionate about music and cinema since he was a child, he took drama classes while joining the Alice Dona studios.
Given his background, Cédric naturally decided to commit himself to making musical plays, combining theater and the world of music.
We saw him in "Les mille et Une Vies d'Ali Baba" at the Zénith in Paris, in "Roméo et Juliette", "Chance" (awarded with the Molière for best 2019 musical show), "Zorro" at Folies Bergères, in "A la vie à l'amour 2" at the Casino de Paris, in "Monte Cristo" and in "Les Dix Commandements" at Palais des Sports in Paris, as well as on tour internationally.
With the greatest of joy he joined the prestigious Bernadette de Lourdes cast for an adventure filled with emotions!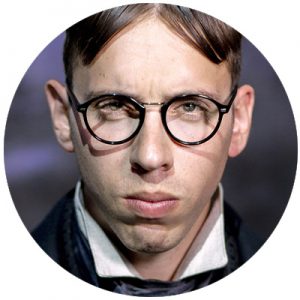 Court clerk and photograph
Guillaume MULLER
Writer, composer, performer, actor, Guillaume is aged twenty-six.
In 2011, he moved to Paris to take drama and singing classes with Armande Altaï.
He took part in various young artists concerts where he reprised first several songs, such as "Amsterdam" from Brel, which opened many doors to him, and then his own songs.
After various concerts and festivals, he recorded (in 2017) his first solo album, "L'envers du décor", produced by Denis Grare, with the participation of many renowned musicians who worked with Bénabar.
Guillaume is passionate about French music and its artists such as Renaud, Brel, Bénabar, Grégoire, and Souchon.
Also, as a lover of movies and plays of all kind, he is inspired by all-time artists, from Laurel and Hardy to Jean Dujardin, or Luchini and Depardieu.
Besides a few shootings and his solo concerts, Guillaume is also involved in the "Plus2talents" organization where he monthly hosts musical springboards.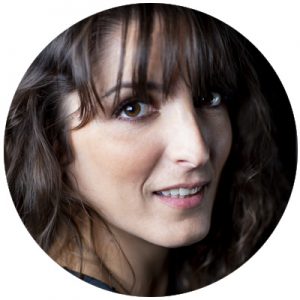 Louise SOUBIROUS understudy
and backing vocalists lead
Magali GOBLET
Magali Goblet is a multidisciplinary artist. Trained at the Cours Florent, then at the Method Acting Center, she began her career in 2002 in a Music Hall in Dijon. First, singer and actor, she then became a lead dancer. At the same time she tried her hand at writing and composing, and co-wrote three shows with the director Alexis Mériaux: The Evasion and Gourmandises revues in 2014 and 2015 for the Odysséo cabaret in Dijon (Gourmandises was then adapted for the Paradis des sources Music Hall in Soultzmatt in 2016) and Anastasia, the musical that took place at the casino Barrière in Lille in 2015. In 2016 she took part at the TV show The Voice. In 2017 she played the role of Corinne and Angelina in the "Welcome To Woodstock" musical at the Comédia in Paris. Magali is currently playing the understudy role of Bernadette's mother in the "Bernadette de Lourdes" musical. She's also working on various projects that matter to her: her album and the writing of scripts.
She can also be found occasionally on dubbing sets where she is the voice for shows, movies, and cartoons.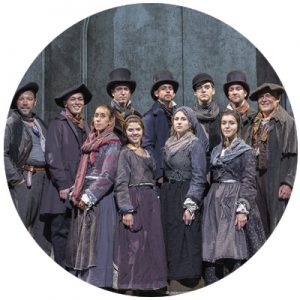 The crowd
Walk-on-actors-Backing vocalists
From left to right and top to bottom: Jean-Pierre Larroutude, Valentin Barzu, Anthony Sanz, Yohann Beaufils, Steven Sequeira, Francisco Ochando Lopez, Jacques Perrodeau, Joshua de Pinho, Ptissem Ait Ouaka, Marine Dadure, Mélissa Blanc, Laure Giordano
Julien Demont (not photographed)